Welcome to the website of the Grace Covenant Church Of God. Our congregation is made up of a group of
people just like you who gather together to grow in a relationship with Jesus Christ.
Our mission here is to reach a city, county, country, and world with the love of Jesus. We are located in the
heart of New Ellenton, South Carolina.

Our church holds weekly services on Sunday and Wednesday and we would love to have you come visit and make us, your new church home. Feel free to visit our links to see information about our service times
and our staff. God bless!

For questions or information concerning Grace Covenant you may call 803-652-2103.
Office hours are 9am-2pm Monday-Friday... closed all day Wednesday

"WHEN JESUS CAME..."
When Jesus came riding into the Holy City, Israel was looking for a warring General who
would re- establish their earthly kingdom. That's what Israel wanted.

When Jesus arrived, what they saw was the fulfillment of 1000's of years of prophecy fulfilled
before their eyes—the Seed of the woman, the Lamb of God, the Lion of Judah, the King
of kings and Lord of lords, the Alpha and Omega, the Worthy One, the Bread, the Water,
the Light and the Life…He who is all in all. That's who they got!!

BUT THEY DID NOT UNDERSTAND!!!

· A few days later and the cries of "Hosanna" would turn to "Crucify!"
· A few days later and the adulation would turn to accusation.
· A few days later and the apparent Hope would turn to obvious horror at Calvary!
· A few days later and they would watch as the King of Glory, their Messiah, died on the
torture rack of a human-made Cross!
· A few days later and Heaven would testify to the horror by withholding its sunlight!
· A few days later and Earth would cringe at the sight and reel in an earthquake that
shook the Temple Mount—rending the great Veil of the Temple in two!

The composer lamented...
"So sad was His face there, that the birds hushed their singing,
They were walking my Lord up Calvary's hill."
Do we truly understand? The Lord of life, the King of Glory, the Messiah has come. And
He has not come to fulfill our selfish, earthly plans. He has come to save us for eternity!


"Gather the fuel. Stir the embers. Fan the flame!!".
Pastor Foster



Grace Covenant Church of God, New Ellenton, SC
Promote Your Page Too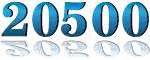 Yummy Tracker